Attention Blues Players: If you are still trapped in the box with your solo's & stuck in a rut with your rhythm then you should discover what only 200 people on the planet will ever know...
"Throw away Your Chord Books & Internet Guitar tabs, you are about to learn the 42 wickedly effective techniques used by the greatest blues legends of ALL time"
"White hot licks, Sizzling Blues Riffs, Bone crunching solos,
Your Guitar Playing will reach masters level savvy
using these time proven methods"
Dear Friend,
Have you always dreamed of playing gritty back alley Blues Like Stevie Ray Vaughan....
Imagine sitting down with the blues master himself in the dark recesses of a texas dive bar as he breaks down his most prized licks just for you...
What if BB king sauntered over with his cherished rosewood GIBSON guitar "LUCILLLE" on break at a seedy backwoods jukejoint just to pull up a bar stool to discuss his ideas to bring soulful expression to your blues solos...
... wouldn't that be AWESOME?
Go grab your favorite axe because you I and all the great blues legends are going to go off in an amazing blues guitar learning jam because I have uncovered the Holy Grail of Blues secrets from the ALLTIME BLUES Masters and I am stoked to be able to break them down for you.


Here is what happened:
Between pro gigs I supplemented my cash teaching private blues guitar lessons after years of intensive one on one sessions with Students who yearned to learn smokin Blues I became totally convinced even a rank beginner could achieve astonishing progress with my Blues techniques.
The Amazing Story Of
"How The Blues Guitar Secrets Were Uncovered"
Marty here... Let me confess something to you that I couldn't even admit to myself for a while....
Here it is:

"The Blues" brought me to me knees last summer - and I'm not talking about the music kind of blues (the kind we all love), but the "real blues."
Ugh. I'm sure you can relate. It's happened to everyone, right?
But I gotta tell ya, teaching guitar to you guys has truly lifted me back into the clouds. And that's why I'm writing you right now(and how you can benefit, big-time). Here's what happened in a nutshell..
I had a huge bummer summer 2008. I was laid off from a job I loved, teaching music to elementary school kids (think School of Rock, Marty-Style! I have been called the Jack Black of youtube guitar teachers, lol).
That was really bad. So I devoted all my time to giving one-on-one guitar lessons to students ranging from young rockers to old blues dogs looking for some new tricks.
See, I always enjoyed playing the Blues myself. I was amazed at how many students of all ages wanted to learn more blues styles covering rock, southern and classic blues. And then something really cool happened. I discovered that by teaching guitar lessons full time to others, it gave me the absolute best game plan of what works and what doesn't.
It was like tinkering in a lab and coming up with a new invention -by hearing the feedback from my private lessons and noticing the jaw dropping progress of my best students, I (almost accidentally, it seems), uncovered the blueprint for learning the blues in the shortest time possible. It was also like re-discovering the law of karma - if you share with others what you know best, then you can discover something on your own that's valuable and exciting.
The result: a precise game plan that takes you from 12 bars Blues to soulful blues guitar solos. You can learn it ALL just like my students.
Here's just some of what you'll discover
in my
10 DVD

Super Blues Learning System...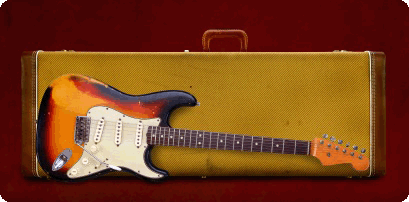 To get things rolling, You will learn the grand daddy of ALL blues rhythms (The 12 Bar blues). You can easily master this in a short afternoon after you watch these DVDs.

Next stop on the Blues Express, I go over the "blues turnaround technique". You'll be able to sit in with even the most seasoned bluesmen once you have this cool trick in your back pocket.

Discover how to use simple embellishments to create ingenious blues rhythms almost overnight.

How to play wicked blues licks. You'll bring the audience to their feet as your axe screams its siren song with these crowd pleasing smokin riffs.

Simple way to inflict massive emotional expression from your blues bends implementing the favored blue note in the pentatonic scale.

How to seduce the crowd during your solos by opening the pandora's box of musical voicings with over the top vibrato.

Discover how the mysterious sounding ninth chords can open the door to the Dank Recesses of backwoods blues playing (simply sliding the shape up the neck).

Learn to tap into the wickedly effective 13th chords which will create a wall of sound during your Blues Turnaround, these chords are extensively used by ALL the top Blues masters.

Unlock advanced 12 bar blues playing techniques... These instantly valuable techniques will take your playing to the next level faster than you ever thought possible.


Check out what John Sadie just sent in about the Blues DVD course...
Testimonial by John Sadie - Olympia, WA
I've been trying to learn to be a better guitar played for a while now. I tried a bunch of training materials but Marty's DVDs are the best I've come across!

Each collection is loaded with songs and tips, well worth the investment! What's cool is, Marty is comfortable to watch and patient with his techniques.

His instruction has moved me right along. I'm looking forward to next one. Thanks so much!
How to rapidly play Jimi Hendrix flavored blues runs. Use this Fiery Rock/Blues lick that defined the all time Guitar Zen Master (they are surprisingly easy to learn).

My Proven method to supercharge your guitar chops so people will beg you to play with their band.

Learn this overlooked, yet awesomely effective technique to bring home Muddy Waters inspired Blues. (This closely guarded blues trick can be learned in just a few minutes).

You will discover how the diminished third and seventh or "Blues Notes" when used in your solos will produce head shaking results as you improvise your riffs up and down the guitar neck.

How to play the dirty "Don't Mess with "TEXAS" blues shuffle (you will rock grandpa right out of his tattered recliner).


Here is another Student testimonial I just received...
Testimonial by Steve Thompson - Long Island, NY
Hey Marty, Just wanted to go out of my way for you, as you are for many new guitarists, and say that what you are doing is really great, and I appreciate the help you are giving me on the guitar.

Thanks a lot, Steve Thompson.
Learn how to Escape playing in the "BOX" this simple fix will break the chains allowing you to improvise off the hook guitar solos.

A killer technique to knock the crap out of any tired 12 bar blues progression, you will freak out when you realize it is done with 1 only finger.

Unrelenting Blues bends, use these cool note variations to cold-cock even the most cynical blues critic.

How a sneaky little blues tactic combined with the pentatonic scale can transform your solos into absolute greatness

Listen to what Darryl had to say about the Blues Lessons...
Testimonial by Darryl Burnette - New York
Dude, I'm so glad that I came across your site.

It's been all of 15 mins and I've picked up a lick and two blues songs. I started taking lessons last year here in the city.

This year I've been focusing on the Blues and wow this is the place bro. Thanks I'll pick up the DVD soon.
Unleash Eric Clapton's "slowhand" minor blues runs(you will learn this style with up close and personal video views)

Learn Why the True Blues greats use little known bend variations to create unseen drama on the fretboard.

Supercharge your acoustic blues with percussive chucking wow the crowd (you can get this down in under and hour).

How to create Chuck Berry double stops combined with the blues scale to mesmerize people with 50's hardcore rock blues

Add a super explosive edge of excitement to a slow blues run with these amazing pentatonic licks ( you will blow your friends away).



Super Easy way to create tension in your Blues solos( By using the Blue notes combined with a walking baseline).



Every Blue Guitar player needs to come to the land of A7.. your blues guitar journey takes unexpected twists & turns in this learning module...(Super Easy to implement).

Crack open the Hot Sauce time to spice up your playing with two crunching I IV V breakthroughs.

Secret Blues Weapon unleashed You'll learn single note riffs that are a blast to play and definite crowd pleasers as well.


Create a devastatingly effective one two punch by mixing Major Chords sauteed with savory Blues notes to create a saucy blues stew.

This will Blow you away an off the wall technique combining arpeggios with a walking baseline (it creates a magical sound).

How to shave off hours of practice time and retain more of what you learned (This is a jackpot of crucial muscle memory info).



And Speaking Of Practice Time, Let Me Tell You A Quick Story Why This Is Absolutely Crucial


Tell Me If You Can Relate To This Story ...


I was talking to one of my students yesterday and he asked me when I started to play guitar. Wow, that brought back some memories you see, I took my first REAL lesson at a local guitar shop when i was 13.

Well, to make a long story short the teacher had me doing 1 note scales which sounded like bad nursery rhymes. My dreams of becoming a shredding RockStar came to a crashing halt after a few painful lessons.

Luckily, a few years later I got in a band with my friends, I was playing harmonica. I watched the guys have a blast on their guitars playing all our favorite songs, with just a few simple chord shapes. I thought man, this is what I wanted to do a few years back, the guys showed me some basic chords and rhythm and I was off like a rocket.

So here it is, 16 years later, and let me tell you, I will NEVER forget that first lesson in that dingy little guitar shop.

Why do I say that? Because I have made it my absolute mission to never BORE a student into quitting this fabulous instrument!

(Believe me, it can happen...even from some very well-known guitar instructors)

My main goal is to have you playing your favorite songs FAST...not only without boring you, but making it outright FUN in the process. It won't feel like practice. It will feel like PLAY.

C'mon, isn't that what it's all about?




Insider information you will learn how to implement passing notes in your blues progression.(This technique will put you into the Bluesman expert Club).

How this dirty little trick allows you to create that sought after Stevie Ray Sound.

Figure out how this too good to be true I IV V Blues progression can be turn the lights out at the seediest dive bar.

Street Tough Blues how to use rock power chords in a this little known variation to create raw but ready blues jams.



How to Crack the code & play your blues rhythms in the correct key signature in seconds (You will make yourself invaluable to your lead singer when you change pitch on the fly).

The simple little tip that automatically insures you pick with pinpoint accuracy (John Mayer has this down cold- it's the reason he is one of the hottest young blues players on the scene to day)

The correct time to use dominant 7 chords.... which instantly creates an almost spiritual off the hook blues run.

Savvy Blues Players are now using this hot new lick in their blistering solos I will go over this sweet riff in chilling detail

Eye Opening advice by the Blues Legends on invigorating your lead guitar playing Your peers will be totally convinced you are up to no good.

How to control your phrasing in your electric lead playing this is lesson is contrary to common knowledge and will allow you to blow the roof off your next jam.




Here's What YOU Get Inside
"Secret Weapon to Blues Domination"



Beginner Blues 4 DVD Pack :



Blues DVD 1: The first blues DVD is nearly 2 hours in length. Marty goes over the lesson plan in the DVD Intro module.
Jump right in to the 12 bar blues, broken down step by step have alot of fun playing along with Marty in the DVD section Marty then teaches all the important Blues Turnaround this takes your blues playing to a whole new level.
As you progress through this DVD Marty unleashes more Blues tricks and techniques. To finish up the Blues DVD 1 Marty breaks out some awesome guitar licks and beginning solo techniques.

Blues DVD 2: Marty lays out the plan of attack for the second DVD of the series. Marty expands on the 12 bar blues with more advanced rhythms and tricks.
Marty goes over some new awesome Blues chords to give you many styles including Jimi Hendrix and other greats. The DVD progresses to early rock Chuck Barry style Rhythms and Blues runs. This DVD is also almost 2 full hours with no breaks.
Marty moves on to various styles of Blues including the super popular TEXAS influenced Blues The DVD includes play along Jam Tracks and a bunch more cools guitar licks and advanced blues turnarounds.

Blues DVD 3: Marty keeps the learning machine in high gear and takes your Blues Guitar playing to the next level with the latest DVD in the series.
This DVD is focused on Blues licks & Jam Tracks. Play along with Marty as he break down 9 awesome new guitar licks.
Marty goes into some music theory but do not worry he makes it fun and you will laugh the whole way. This DVD is nearly 2 hours in length 117 minutes of pure guitar learning fun.


Blues Solo DVD: Wow another almost 2 full hours of Blues Solo styles and techniques. Marty introduces you to the game plan of this DVD what your goals should be.
Marty will teach you how to master the guitar neck with simple ways to learn the notes on the neck and more. Marty blasts you with a new arsenal of blues licks and techniques.
The next section of the DVD is Blues music theory, Marty makes it fun and easy to learn the nuts and bolts behind the blues, The Solo Blues DVD will take you playing up to the next level and best all all you will have fun doing it.

Retail Value: $119.80




Quick Blues Guitar Licks DVD +
Intermediate Blues DVD 1 & DVD 2 :



Quick Guitar Licks DVD: In this amazing DVD Marty puts together an awesome set of need to know guitar licks in various styles and genres. These guitar licks can be played anywhere on the guitar neck.
Marty breaks this licks down for you in his unique entertaining style.

Intermediate DVD 1: Marty starts off this DVD teaching you several important guitar scales you will need to blast solo's all over the neck with fluid ease & style.
Marty takes a different approach than most instructors, once you learn a scale Marty presents you with a Jam along section so you really build a solid foundation on each scale you learn

Intermediate DVD 2: In this DVD Marty takes a series of popular chords progressions and explains how you would apply solos over them. Marty unlocks the mystery behind guitar solo mastery.
Applying techniques with real time practice is one of Marty's trade secrets to unlocking your potential to advanced guitar playing.

Retail Value: $89.85



New Blues DVD Set :


This "New Blues" 3 DVD set contains over 4 hours of Mega Valuable insider Blues secrets and tips.
You will learn several cool Blues Chord progressions and techniques that will supercharge your playing style.
Read on to discover just a few of the styles you will learn from these amazing DVD's the samples below are just scratching the surface of the wealth of power in these DVD's:

| | |
| --- | --- |
| | You will learn how to master soulful blues with focus on the minor key |
| | Discover Funky Blues Rhythms which always gets the crowd jumping to their feet |
| | How to use the Magic Blue Note along with major chords to spice up the set |
| | Discover Funky Blues Rhythms which always gets the crowd jumping to their feet |
| | How to use the Magic Blue Note along with major chords to spice up the set |
| | Blast country rhythms across the neck to the delight of your family & friends |
| | Start to use mysterious blues chords which will turn heads when you jam |
| | Using augmented chords in your riff and guitar licks will set you apart from standard Blues players |

The Blues techniques I lay out for you in these DVD's would compare to 30 or more private lessons (@$50 per private session).
You save time & money plus get the golden key which will unlock the blues info you have been yearning after.
Applying techniques with real time practice is one of Marty's trade secrets to unlocking your potential to advanced guitar playing.

Retail Value: $89.85





Immediate Shipping
10 DVD Blues Learning system

YES Marty, I want it! Please let me have one of the 200 available copies of your "Secret weapon to Blues Domination" 10 DVD course for just 299.50 $97

I want to use your Proven Blues Learning System to:

Play Sizzling Guitar Solo's...


Amazing 12 bar Blues Rhythms...

Wicked licks, and...

Smokin Guitar Blues riffs!

Have your credit card handy and click the happy orange "Add To Cart" button below to access "10 DVD Blues Learning system" right now...




P.S. Special 3 Disk Bonus set included for the first 200 orders (retail value $89.85):

SPECIAL 3 Disk BONUS SET
Limited Time Offer (retail value $89.85)

BONUS 1:

Live Student Learning Sessions DVD

---

This DVD is your secret weapon to guitar mastery. Be a Fly on the wall viewing a private one on one guitar lesson.



Watch Marty in action taking a students stumbling blocks and breaking them down in his unique & entertaining style. Private lessons with Marty are $50 per session, take advantage of the mind blowing learning experience.

You will be actively engaged and benefit greatly by this steady flow of insider guitar tips & tricks taught in the session.

The Lessons on this DVD are broken into easy to digest segments so you can keep what you learn and apply it to your guitar techniques today.

You will gain insight as they go over techniques to take his playing to the next level.

This special bonus DVD has normally a retail value of $29.95



BONUS 2:

15 Awesome New Jam tracks CD

---

Could there be a better tool to help you master your guitar solos than Jamtracks inspired by your favorite artists? I don't think so...



This CD is over 60 minutes in length & contains 15 of the most sought after backing tracks on the market today.

These play along Jam tracks were Inspired by Blues greats such as Stevie Ray, BB King. Rock Legends Led Zeppelin, AC/DC and many more. These play along backing tracks will keep you inspired & make practicing alot of fun:



Soulful Southern Blues Backing track
3 minutes 54 seconds

Led Zeppelin Rock Inspired Jam Track
4 minutes 28 seconds

AC DC inspired 1980's Rock backing track
4 minutes 14 seconds

90's Pearl Jam flavored play along Jam track
4 minutes 3 seconds

Inspired Blues Jam track in the Key of A
3 minutes 41 seconds

Slow Tempo Blues in the Key of E
3 minutes 15 seconds

Play along Jam Track inspired by the Man in Black
4 minutes 18 seconds

Funky Minor Blues in Key of G great learning tool
3 minutes 29 seconds

Hard Rock Play along Jam track in Key of E
3 minutes 55 seconds

Sad Slow Blues Backing Track in Key of B
4 minutes 27 seconds

Play along Blues nice easy tempo great for beginners
4 minutes 13 seconds

Slow Rock Backing Track awesome practice tool
4 minutes 6 seconds

Alternative Rock Jam track Key of A
4 minutes 14 seconds

Soft Rock Play along John Mayer inspired
4 minutes 49 seconds

Super Fun Southern Rock Jam track
4 minutes 10 seconds

This Jam tracks collection will put you on the road to guitar mastery. Playing to backing tracks will help you improve your timing plus more importantly it makes practice fun.

This special bonus CD has normally a retail value of $29.95



BONUS 3:

My inspired Blues DVD

---

This blues DVD which covers another 2 hours of Blues goodness. We travel through the genres of blues from slow TEXAS to rocking out blues.

You will learn a bunch of awesome new blues licks and a whole lot more Marty will teach you how to master the guitar neck with simple ways to learn the notes on the neck and more. Marty blasts you with a new arsenal of blues licks and techniques.

The next section of the DVD is Blues music theory, Marty makes it fun and easy to learn the nuts and bolts behind the blues, The Solo Blues DVD will take you playing up to the next level and best all all you will have fun doing it.

This special bonus DVD has normally a retail value of $29.95



BONUS 4:

Blues Domination Downloadable Tab Ebook

---

This blues DVD which covers another 2 hours of Blues goodness. We travel through the genres of blues from slow TEXAS to rocking out blues.

You will learn a bunch of awesome new blues licks and a whole lot more Marty will teach you how to master the guitar neck with simple ways to learn the notes on the neck and more. Marty blasts you with a new arsenal of blues licks and techniques.



---

Here's my Totally Risk-Free,
No-Worries, Guarantee


Let me make this easy for you.

I am going to give you a full 12 Month No Questions asked return policy on any of my DVD's. Put them to practice and watch yourself playing guitar and having fun in the shortest amount of time possible.

Get started rocking out today, I cannot wait to hear about your progress

You do not risk anything by ordering now.




I Wish You Success and NOTHING less,

Marty Schwartz
Creator - 10 DVD Secret weapon to Blues Domination

P.P.S. Just so you know, I'm a real person and I really love to teach you. Here is my information just to prove it to you:

Marty Schwartz
310 South Twin Oaks Valley
#107-316
San Marcos CA 92078-4387