The Fascinating Story Of
How "Country Guitar Secrets" Were Uncovered
Let me tell you how these country guitar secrets were uncovered . . .
Tucked away in a nook of a sleepy little town in Southern California is a guitar shop like no other.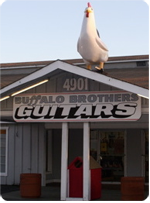 Located just off County Highway S11, you'd never guess you were just a few miles away from some of the priciest oceanfront real estate on the pristine Pacific coastline.
That's 'cuz the road has a bit of an Old West feeling as you drive your rig past a funky, 1950s-style diner called Bobby's Hideaway Café.
And THEN . . . looking like a cross between on old wood-sided hay barn and an Industrial warehouse is this famed guitar shop — with a huge CRAZY 20-foot CHICKEN perched on the ROOF!
Huh? It's actually a famous local landmark … and serves immediate notice that you are about to enter no ordinary place . . .
Most first-timers will stop a few feet just inside the doorway with their mouths agape. Draped along the walls are hundreds of hand-crafted acoustic guitars that take your breath away — everything from vintage classics to multi-thousand dollar masterpieces.
As you head to the second floor you are floored by the quantity and quality of the magical instruments, displayed as if you had entered a museum. (And you have in a sense, yet all are available for a price.)
Small wonder that this store is actually known the world over by serious guitar collectors.
Now here's where it gets really interesting . . .
For many years, this local guitar shop has been a "must-stop event" for professional touring musicians from all over the world.
And the sales crew has always been manned by a group of super-knowledgeable staff of well-respected local guitar players looking to supplement their income between gigs.
One of those lucky sales pros was named Bob Ryan, a well-known country guitar player in Southern California. Bob was dedicated to helping the store's high-end clients, who included touring musicians, recording artists, and music industry mavens.
Bob was on of the most requested guitar consultants at the store because he gave off a positive feel-good vibe in all aspects of music, ranging from creating his own monster licks to sharing his wealth of guitar knowledge.
Most importantly, Bob was privy to many late night "after hours" closed door jam sessions in the secret back room studio of the store.
A few ice cold brews were shared along with something much more important: You see, Bob was let into that super exclusive club and was given carte blanche access to a massive secret collection of techniques and styles that had thrilled worldwide country music audiences for decades.
You must also know that it was far from a one-way street.
You see, Bob was so talented, and had soaked up so many little-known techniques and tricks for so long from household-name guitarists, that HE often became the teacher in these informal back room sessions.
It was instantly clear that once Bob touched his Fender Strat and started to play, that he had as much to offer as any of the country musical legends that happened to be jamming with him at the time.
Over the years, too many amazing riffs and licks to count where shared in these closed door "mastermind" jam sessions.
Quite literally, Bob Ryan reaped an "insider-only", Masters-level guitar education from the greatest set of teachers you could imagine, the insane number of country guitar gurus who made it a point to visit this country guitar mecca.
And now Bob has decided to share these techniques with you. He's taken the absolute BEST OF THE BEST country Chickin Pickin, Riffs Licks & guitar tricks in put them all together for you in a truly awesome 3 DVD Country Guitar package.