Super Sale ends on Thursday,
June 21, at midnight Pacific Time
Days
Hours
Minutes
Seconds
Who Else Wants a Massive Shortcut In the Time
It Takes to Become an Amazing Lead Guitarist ?
After Playing Thousands of Professional Gigs and Teaching Thousands
of Students, I Have Perfected a System That Lets Anyone
"Plug and Play" Their Way to Sensational Solos . . .
Dear Guitarist,

Have you ever heard your favorite guitar hero absolutely shred a killer solo... and then felt the quiet despair of knowing that you'd never be able to do the same thing?

I used to feel that sort of disappointment all the time. From the time I was a little kid when I saw Eric Clapton create ungodly solos at my first concert, I was convinced that I'd be nothing but a chord strummer my whole life.

That was a bitter pill for me to swallow because I not only loved hearing mind-blowing solos I wanted to be up on stage creating my own magic as a memorable lead guitarist.

Fortunately, I am not the type to give up easily. (Was I determined or just plain stubborn? I'll let you decide...)

I embarked on a years-long quest to "figure this thing out," and I'm happy to report that not only did I succeed but I also discovered that my method for learning lead guitar worked for anyone else who tried it.

I also compressed everything I learned into a lead guitar system that anyone can follow to play truly inspiring solos and become the lead guitarist you've always dreamed of becoming.
Watch this video to see how I came up with
this system and what's in it:
The DVDs mentioned in this video have been converted to digital format, meaning nothing is shipped to you. Instead, we converted all the content from the DVDs into the digital download video series you see on this page, which means you can watch them immediately online or download them for viewing on your computer or device.
How I Went From Being a "Sideline Noodler" to Playing Lead Guitar
In Front of 50,000 Fans at a Stadium Concert ...
It's true: I once played in a band that opened for Aerosmith, and at one point I was playing lead guitar, absolutely blasting a long, soaring solo in front of 50,000 fans at an outdoor stadium.

When my cue arrived, I stepped out onto the stage apron while my bandmates hung back, and I let it rip. I'm telling you, it's a moment I'll never forget.

Talk about a dream come true... and you'd probably be shocked how insecure I used to be when it came to playing guitar...
It would be easy to blame my initial lack of success with guitar on a bad teacher, but the truth is more complicated. It's true that my first guitar teacher was so lame that I literally GAVE UP guitar for five years.

I mean, there I was: 13 years old, just a fresh-faced kid with a shiny new electric guitar I had gotten for Christmas.

I was STOKED . . . until this teacher, a sort of retired hippie-looking dude who was probably just a frustrated musician, proceeded to suck every shred of enthusiasm out of my soul. He did this by making me play nursery rhymes and pointless drills, and he took absolutely no interest in ME whatsoever.

I not only gave up guitar for five long years, but when I picked it up again I was disheartened by how good my friends were. How would I ever catch up?

The first thing I did was bury myself in a pile of guitar instruction books, but all that did was overwhelm me with a good dose of "information overload."

My big obstacle back then was in learning how to make my solos sound like real solos alive, vibrant, expressive instead of a wooden mechanical pattern without any soul whatsoever.
Finally, A Breakthrough . . .
Fortunately, in addition to perseverance, I also happen to have a personality trait that served me well in my guitar journey (if not annoying to others): a shameless desire to pick the brain of anyone who could play guitar well.

When I picked up the guitar again at age 18, I had several friends who had gotten really good at guitar. And so I asked them for tips as part of my unending search to put together the guitar solo puzzle. I was on a no-holds-bared quest to learn everything I could.

Because I did this so relentlessly, I began to make some great progress. And here was the biggest thing I learned back then: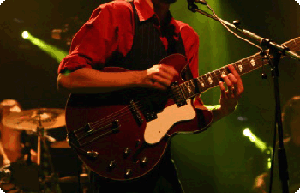 IT IS POSSIBLE TO PRACTICE THE WRONG THINGS!
I don't care what anyone says about "practice making perfect," if you're not practicing the right way, then you're just spinning your wheels and you will hit "the glass ceiling" and never get better.

I learned this lesson the hard way. I tried learning too many things at once. I tried to master certain key elements before I was ready. And the result was a never-ending succession of "one step forward, two steps backward" that got me nowhere.

Here's what I (eventually) discovered: When you practice the right things... in the right order... at the right time... with the right goals... then your success with solo guitar isn't just possible it's inevitable.
Look, the world is filled with failed guitarists who gave up too early because someone didn't --- or couldn't --- show them how simple and easy guitar can be.

It literally turns my stomach to think of all the other 13-year-old kids (or anyone of any age, for that matter) who were made to feel dumb... or uncoordinated ... or dense... or untalented... or all thumbs... or not gifted... or non-musical... because they couldn't master the guitar right out of the gate.

Once I discovered a few simple keys to playing guitar, it became WAY easier and I was on my way.

I went on to play in literally thousands of professional gigs as a guitarist in every capacity . . . and over the years I also taught literally thousands of students the same system that worked for me.
So Here's What I Did That Will Transform Your Lead Guitar Playing, Starting Today . . .
I compressed my complete lead guitar roadmap into one easy-to-follow "stairstep" system that will let you achieve whatever lead guitar dream you may have.

This program gives you an exact blueprint for inevitable lead guitar success. I mapped it all out and distilled it into a highly effective video series that will work for you if simply follow it.
Introducing Our Guitar Soloing Video Series
Get Our "Guitar Soloing" Course
For 78% OFF!
Here's Just Some of What You'll Discover in
Our Lead Guitar System ...
All the "core essentials" you'll need to do this in case you're starting from scratch.
This includes all guitar scales in the minor pentatonic series of shapes.
Learn how to create melodic solos up and down the entire neck.
Discover how to combine elements of Blues for an extra dimension that will blow away your listeners.
Learn exactly what to play over any song or chord progression.
How to develop the necessary lead guitar confidence to play lead guitar at a moment's notice,
whenever you want.
Here's What YOU Get Inside


"Guitar Soloing Video Series"
Guitar Soloing Video Series (converted completely from the original 4-DVD set):

The lessons in my Guitar Soloing Video Series starts off covering the bedrock of all guitar scales the minor pentatonic series of shapes. You will be shown a series of amazing licks to be played over this scale (which by the way is the favored scale used extensively by the lead guitar Legend Slash formerly of Guns N' Roses).

You will then learn all the shapes of the next super important tool to add to your soloing arsenal called the modes. Using the modes in your lead guitar playing will open up a whole new world of sound to your blistering solo's.

Create melodic solo's up and down the whole guitar neck.

Carlos Santana implements full scale modes in much of his amazing guitar playing. You will also learn to combine elements of Blues guitar playing with half step shapes to add that melodic extra sound.

The modal scale shapes are used in all genres from classic rock to Metallica it is super important that you get these down cold. The modal techniques will be covered with relevant examples to get your solo's rocking faster than you ever thought possible.

In this amazing video series, we also dedicate one full segment (so large it would fill up an entire DVD) to the Mixolydian scale for guitar soloing. These techniques are applied in Jazz & Blues guitar playing I will break down all the shapes of this scales with the most commonly used chord progressions to play your solos over.


Order this special "Guitar Soloing" Video Series
Now at 78% OFF!
$129.98 $89.97
$29 !
(That's $100.98 OFF the regular price!)
NOTE: Since supplies are limited at this low price, this is a temporary special offer and will be taken down without notice at any time. Grab it now to lock in your huge savings!
Immediate Shipping
Guitar Soloing Video Series
YES , I want it! Please let me have one of the heavily discounted copies of your "Guitar Soloing Video Series" for just 129.98 $89.97 $29
Have your credit card handy and click the happy orange "Add To Cart" button below to access "Guitar Soloing Video Series" right now...
GuitarJamz
2033 San Elijo Ave Suite #254
Cardiff CA 92007
Copyright © 2009 - 2017 Guitar Jamz Inc.