Why Should You Learn to Play
Guitar Like Eric Clapton?

... Better yet, CAN you?
Read Below to Discover the 8 Surprising Reasons
You Should - and yes, CAN! - Play Guitar Just
Like the "Slowhand" Master Himself ...
Dear Guitarist,
Of course, the question needs to be asked ...
Even if you could play like Eric Clapton, should you?
Before we answer that, we want you to imagine something for a second ...
Imagine picking up your guitar and being able to wring such emotion out of your it that it sounds like the single string you're bending is a mournful cry, a nearly human weeping sound that melts the heart of anyone listening.
Or imagine that by learning to perform simple micro bends you can create searing guitar lines on demand that turn heads and get listeners to wonder where you learned how to do ... THAT.
Finally, imagine what it's like to create a sound that's much BIGGER and FULLER than what you're currently doing. Imagine being able to fill a room and your listener's ears with a sound so ... EPIC ... that it seems to carry all the weight and history of blues and rock and roll on its strong shoulders.
Now THAT'S why you should learn how to play like Clapton!
But those aren't the only reasons ...

The other reason is this:

Learning the Same Techniques as Eric Clapton Not Only
Makes You "The Complete Guitar Player" — It's Way
More Doable Than You Might Think!
We discovered this over the last several months personally. Here's what happened ...
When it became the time to create out next instructional set, we turned to the blues for inspiration. (As we often do; if you know anything about the instructors here at Guitar Jamz then you know we believe that almost everything we play is alllll about the blues.)
So here's what we did. We strapped ourselves in and dug super deep into everything Clapton did. We wanted to unlock the secret to the "Slowhand" master himself.
So we literally lived and breathed Eric Clapton for months on end.
We studied his blistering lead lines. We deconstructed his scorching licks. We broke down every flaming riff, flick and bending technique we could find.
We played along with all his best solos. And then we distilled all of the best stuff into a step-by-step, teachable game plan you can absorb to transform your own guitar playing.
Check out the details below or grab your copy right now.
Introducing …
"Killer Clapton Guitar Licks & Tricks"
The "Slow Hand" master's best licks, riffs, tricks and techniques --- all demystified and made simple.
22-Video Series (Digital Download)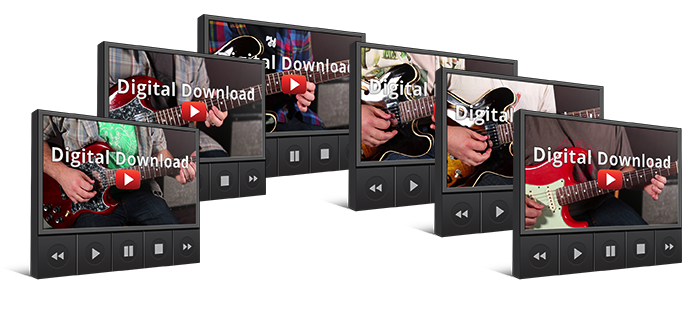 Before we tell you what's in this course, let us give you ...
8 Great Reasons Why Any Guitar Student
Should Learn to Play Eric Clapton

Clapton's stuff is incredibly TASTY, but it's not acrobatic or difficult when you do it the way we teach it.

His material encompasses such an amazing range! It practically covers everything you might ever want to play: the robust blues-rock from his "power-trio" Cream days, blues-based psychedelic pop, the mellow style of JJ Cale (think "After Midnight" and "Cocaine"). Heck, Clapton even helped bring reggae to the masses with "I Shot The Sheriff"! Obviously, learning such a wide range of styles will greatly improve your playing.

Part of Clapton's' genius is all the little licks and tricks he has in his bag. I'm not just talking about his hammer-ons and pull-offs — we teach you those as well — but all the little flicks and bends he does. And not just the big whole step bends and minor third bends, but all the little micro bends that almost make the guitar sound out of tune but give it that exquisitely cool flavor. Yummy!

Clapton's able to wring so much EMOTION out of his guitar. (Listen to the last three minutes of "Layla" and tell us you can't feel the searing agony of unrequited love in that unmistakable guitar figure that Clapton plays with Duane Allman.) Learning Clapton's techniques will let you play with more depth and feeling.

His stuff just sounds great, plain and simple. Whether it's that "BIG" sound from his Cream days or something more custom such as his self-created "Woman Tone" which has been described as "thick yet piercing, overdriven yet smooth, distorted yet creamy," to play Clapton is to become truly accomplished.

You'll begin to master mixing minor and major pentatonics together. Like all the great blues players before him, Clapton often toed the line between the sweet major sound and that straight, rock minor pentatonic sound. He blended those together beautifully, and I'll show you how to do that, too.

Learning Clapton is like getting a brain transplant from all the blues greats in history. That's because he studied all the greats himself and cites Freddie King, B.B. King, Albert King, Buddy Guy, and Hubert Sumlin as big influences. "I have never found anything more deeply soulful than Robert Johnson," Clapton once said. "His music remains the most powerful cry that I think you can find in the human voice, really. It seemed to echo something I had always felt." Clapton stood on their shoulders to pioneer blues-rock history forward, and now you can stand on his.

There is a basic simplicity to his style that is perfect for anyone who wants to improve their blues or rock playing. As Eddie Van Halen said:

"Eric Clapton is basically the only guitar player who influenced me — even though I don't sound like him. There was a basic simplicity to his playing, his style, his vibe and his sound. He took a Gibson guitar and plugged it into a Marshall, and that was it. The basics. The blues. His solos were melodic and memorable — and that's what guitar solos should be, part of the song. I could hum them to you. I would literally slow down those records and learn every lick, and bottom line it's all blues-based. He made me pick up a guitar."

- Eddie Van Halen

That quote is just so good, we wished we had written it!
Seen Enough? Then Order Here Right Now ...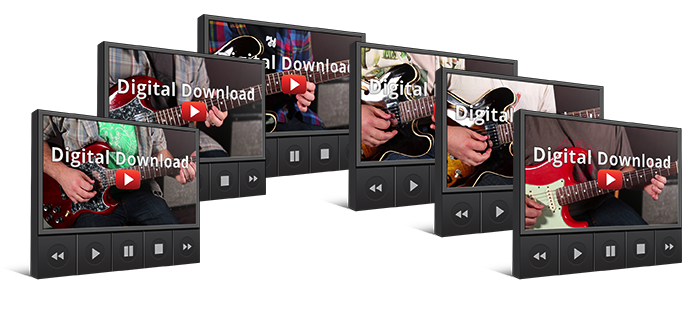 ... Or Keep Reading to See What You'll Be Able to Do
After Watching This 22-Video Course ...
Here's what you'll be able to do after watching my
course, "Killer Clapton Guitar Licks & Tricks":
| | |
| --- | --- |
| | Discover the hidden shortcut to ear-bending double stops. (Module 2, 2:35). |
| | Learn some signature Clapton-esque guitar riffs that will snap heads in your direction every time. |
| | Master this cleverly disguised guitar lick in more then one position, which is great for moving up and down the neck. (This was part of Clapton's genius and you can make it your own, too. (Module 10, 3:35). |
| | Listen to and then learn to play this dark alley blues riff your listeners will recognize Clapton immediately. |
| | Discover the explosive power of our favorite "go-to" Clapton guitar lick to gain the respect of your fellow musicians. |
| | Feel your guitar soloing break through the glass ceiling and go to another level without even trying. |
| | Put TONS of new licks in your arsenal!! |
| | Learn awesome-sounding bends, hammer-ons and pull-offs in three different positions. This will help you get out of playing in just one spot. (Module 1). |
| | Master the Classic Raunchy Double Stop Bend Lick. (Double stops are a cool way to play bigger sounding licks!) |
| | Discover the bittersweet beauty of playing a sour bend. |
| | Master a great repeating lick that is used all of the time in classic rock and blues. (Module 3, 1:16.) |
| | Learn this classic sounding rock solo with all the bells and whistles, that's totally Clapton! You'll learn it all in this one: bends, hammer-ons, pull-offs, double-stops, the works. (Module 4.) |
| | Master forever the secret to mixing the minor and major pentatonics together. (This will make a HUGE difference in your play.) |
| | Discover how a great "howling" minor 3rd bend adds a moody characteristic to your solos. (we show this in our favorite "rock star" position of the minor pentatonic scale. Sad crying sound and a hammer on. |
| | Would you like to know how to create the most human crying sound in music? I'll show you where it is and how precisely how to play it. It's a heartbreakingly mournful — weeping, even — sound. (Module 12). |
Let's Bottom Line All This For You ...
There's a reason we spent several months immersing ourselves
into the guitar world of Eric Clapton. It's because we wanted to decode
all his best stuff into simple language and step-by-step demonstrations that you could use to create the exact same sounds.

We are happy to report we did it! We are really proud of it.
And we know you're going to love it.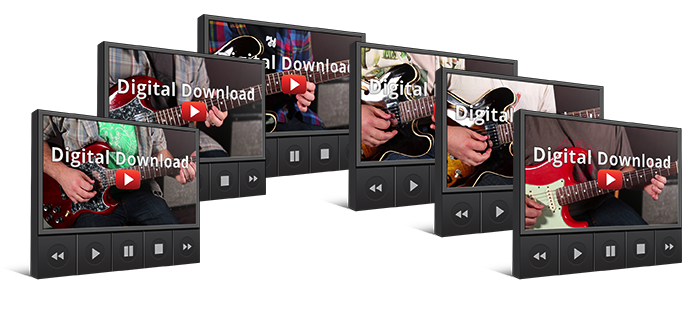 Here's What YOU Get Inside


"Killer Clapton Guitar Licks & Tricks"




22-Video Digital Download Course
Video Modules (a very partial listing):



CLAPTON MODULE 1:
Key of G Licks. These are classic blues techniques in the key of G using the G minor pentatonic scale. Bends and hammer-ons and pull-offs in three different positions. This will help you get out of playing in just one spot.

CLAPTON MODULE 2:
Classic Raunchy Doublestop Bend Lick Key of E. Classic E blues, up in the super power zone, 12th fret root. This hails from Clapton's Cream era, when their big "power trio" sound ruled blues-rock.

CLAPTON MODULE 3:
Double-stop Classic Blues Lick E Minor Pentatonic Scale. A really fun double stop lick in E blues. Great repeating lick that is used all of the time in classic rock and blues. You'll also learn how to do sour bends on the G string.

CLAPTON MODULE 4:
Cream-Style solo with all the bells and whistles, and stays right in the first position of the D minor pentatonic. Bends, Hammer-ons, Pull-offs, Double-Stops, it's all there in this lesson.

CLAPTON MODULE 5:
Key of D Double-Stop Descending Lick. This is a descending lick idea using double-stops to thicken up a solo, which can be ideal for power trio settings.

CLAPTON MODULE 6:
Classic Blues Turnaround Lick in the Key of A. This one may have a familiar sound to your ears. It's a classic lick that's great for the blues turnaround. Also, some classic Chuck Berry-style notes!

CLAPTON MODULE 7:
An awesome minor pentatonic scale sequence using hammer-ons and pull-offs. This sequence utilizes hammer-ons and pull-offs, which are essential to grasping that Clapton-inspired sound.

CLAPTON MODULE 8:
A Minor Pentatonic way up high. Some great, classic, thick-sounding bends with double stops. Key of A, A minor pentatonic lick way up top near the end of the neck. This is a great spot for climaxing your solo. Also, note the flicking licks added for good measure.

CLAPTON MODULE 9:
Bend Licks mixing the Major and Minor sounds together Key of D. Great super bending emphasizing the mixing of Major and Minor pentatonic scale sounds. A few hammer-on pull offs for good measure as well.

CLAPTON MODULE 10:
"A" Root Minor Pentatonic Scale In the Key of C with extensions. This is in the key of C employing the A rooted minor pentatonic shape. Great double stop bends and extensions should help get some new ideas flowing in your blues playing. Also, this lick is in more then one position which will be good for moving up and down the neck.

CLAPTON MODULE 11:
Half Step Bends. Key of C using the minor pentatonic scale. Once again using some unique bends but mixing some half-step bends which is a big part of the Clapton sound. Bends always add a vocal sound to your playing so use them wisely!

CLAPTON MODULE 12:
A minor licks using bends for a straight minor sound. Great "howling" minor 3rd bend adds a moody characteristic to your solos. This is in the Key of A and is in our favorite "Rock-Star" position of the minor pentatonic scale. This is how you create that incredibly mournful, almost human, crying sound on your guitar.

CLAPTON MODULE 13:
Bending Techniques in "A" Root Minor Pentatonic. In this example we are using the "A" root position of the minor pentatonic and it opens with the High E string being bent up to the root. One of the coolest things about the A rooted minor pent is that this classic bend happens on the High E string which is a bit easier and just plain fun!

CLAPTON MODULE 14:
"A" Root Position Minor Pentatonic Sour Bend and slide lick. This is one of our personal favorite secrets! This lick is in the key of A. Also, note the position of the scale is based with the root on the A string. Nice sour bends once again and a transition slide down the extension. Lots of repetition of this lick will be a valuable asset in your arsenal!

CLAPTON MODULE 15:
Double Stop Bend lick. Key of E double stop bend lick followed by some classic maneuvering through the most used spot of the minor Pentatonic. Also pay close attention to the B string bend up to the root. It's a growling, raunchy double stop bend in a power trio setting. It will work in any kind of blues.

CLAPTON MODULE 16:
BB Box Concepts in the Key of E. The BB Box is a great spot to mix sounds from both the Minor and Major Pentatonic scales! Notice the hammer ons, pull offs, flick offs, and different types of bends. The BB Box gives you some really sophisticated sounds that take you out of the basic rut you can sometimes find yourself in with the minor pentatonic only. It's such a great position that sits between the major and minor pentatonic, which is a really cool sound for the blues …. or any rock solo, for that matter.

CLAPTON MODULE 17:
Jamtrack in the key of E. Let's JAM!!! Here we give you a standard blues jam for you in the key of El so have at it and play with me. Have fun!

CLAPTON MODULE 18:
A blues boogie style lick with extra notes. Here we have a lick concept in the key of A. It's a boogie style lick that uses the major 3rd and the major 6th which are not part of the normal minor pentatonic.

CLAPTON MODULE 19:
E Blues Sliding Transition Lick. Here's a lick in the key of E, using the E minor pentatonic extension from the open scale position. A cool hammer on to the Major 3rd (G#) which gives it a bluesy touch. Also notice the space, or breaths, between the licks.

CLAPTON MODULE 20:
C Minor Pentatonic descending extended scale. This module shows the descending Pentatonic extended scale. Almost every note has a bend added to it. Notice the Pre bends, as well as the 1/4 tone "sour bends." These nuances take something that sounds like a scale, and creates a more musical sound.

CLAPTON MODULE 21:
Mixing the Major and Minor Pentatonics in the key of D. You are going to LOVE this D rock progression, trust me.

CLAPTON MODULE 22:
D minor pentatonic lick hammer on pull off flicking technique. This is a real common hammer on, pull off FAST lick that you can repeat. We love this sound!



Why Digital Download Videos Instead of DVDs?
Because the world is going digital and computer makers are phasing out disc drives, I'm offering these videos as an instant digital download. Gotta keep up with the times!

No more waiting. No more inserting discs and waiting for them to load. And now you can OWN this product on your hard drive forever if you wish. Or watch them online whenever you want, wherever you travel in the world.

In this 22-video series, we break down every essential Hendrix technique you'll need to play exactly in his style. We are talking more than THREE HOURS of step-by-step tutorials, where you get to see close-up exactly how to duplicate these same sounds, move by move, finger by finger.
Of course, you can pause and rewind as much as you need to, which is an advantage over learning from traditional lessons. Take it slow, get the hang of one technique, then move onto the next!
That's just a sneak-preview taste of what you'll get in these videos.
There are tons more goodies in these 22 videos,
totaling more than three complete hours of instruction.
Order this special "Killer Clapton" package
Now at the 67% discount!
$149.00 67.00

$49.00
(That's $100 OFF the regular price!)
Instant Access Today
Killer Clapton Digital Download Course
YES , I want it! Please let me have one of your "Killer Clapton Digital Download Course" for just 149.00 67.00 $49.00
Have your credit card handy and click the happy orange "Add To Cart" button below to access "Killer Clapton Digital Download Course" right now...


Add to Cart: Killer Clapton Digital Download Course ($49.00)
Here are TWO More Amazing Bonuses We Are Throwing
Into This Package If You Order Today ...
SPECIAL BONUSES
Limited Time Offer (retail value $159.85)
BONUS 1:

54 Backing Jam Tracks


(Retail Value $124.97) Included at no charge
---
Have you always dreamed of hearing your favorite song or guitar solo on the radio & then be able to play along with your guitar almost instantly...

What if you could join a band or play onstage in front live audience...

Go grab your favorite acoustic or electric guitar because you are going to have a blast uncovering all the Guitar Soloing Secrets using these amazing play along backing tracks and I am stoked to be able to break them down for you.

Learning different guitar styles keeps your playing fresh and can inspire you to new level of guitar playing.

This special bonus jam tracks set has normally a retail value of $124.75.


BONUS 2:

Blues Domination Guitar Ebook

FREE!
---
There is no better way to speed up your blues playing skills than with our instantly available Blues Companion Ebook.

We detail in tabbed format every screaming licks & sizzling blues riffs. Plus you will get tons of other goodies to help your blues playing get better quicker than you ever thought possible.

This downloadable ebook will allow you unleash your Blues Guitar Solo's and is included as a special Bonus to you.
---
Here's Our Totally Risk-Free,
No-Worries, Guarantee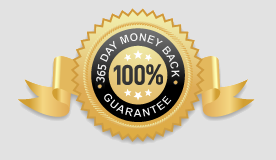 Let's make this easy for you.

We are going to give you a full 12 Month No Questions asked return policy on any of our courses. Put them to practice and watch yourself playing guitar and having fun in the shortest amount of time possible.
Get started rocking out today, we cannot wait to hear about your progress!
You do not risk anything by ordering now.

So are you with me? Let's do this!!!
I'm telling you, when you first hear yourself create the exact same sounds from your guitar that Eric Clapton did, you'll be HOOKED. And you'll never look back. If you're into blues or rock or any of the timeless classic sounds that Clapton pioneered, this is life-changing stuff.
Keep playing!
P.S. One reason we admire and love Eric Clapton so much is because he stood on the shoulders of all the great bluesmen who came before him. (He loved Robert Johnson like no other.) And now YOU have the chance to do the same and learn from one of the greats of all time. Please jump on this special offer before the deadline because once this is released to the general public, the price is going up, as well as all the free bonuses. And remember, I'm taking all the risk here with our 100% guarantee, fully.
GuitarJamz
2033 San Elijo Ave Suite #254
Cardiff CA 92007
Copyright © 2009 - 2020 Guitar Jamz Inc.